THE ACHIEVEMENTS OF OUR FACULTY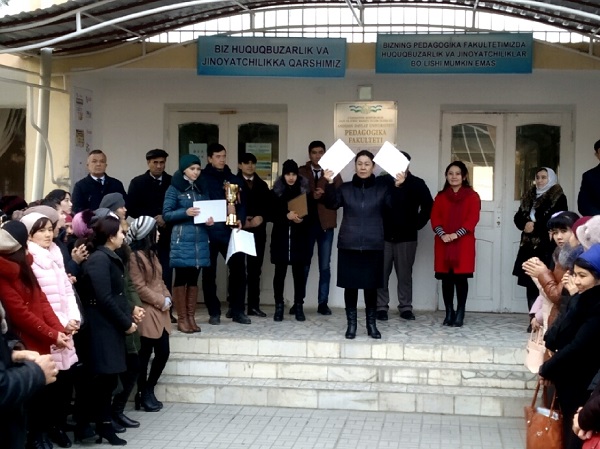 At the faculty of pedagogy of ASU a ritual was held with the participation of students and professors.  The main focus was on the publication of the "Month of Patriotism". During the last week the achievements of the faculty were announced. In particular, Mukarramoy Rasulova, 2nd year student of the education direction, was awarded with the "Certificate of Honor" of the Justice Department on December, the 1st place in the competition "The best essay" announced by the Ministry of Justice on the occasion of "Anti-Corruption Day".
At the final stage of the team of the QVZ organized by the Youth Union in Andijan city puppet theater the team "Pozitiv" won the first place and the diploma was awarded with the prize of 1000000soums. Durdona Ho'jamberdiyeva, a student 3rd year student of the direction, became the winner in the nomination "The most cheerful girl.
Sharofat Abduvaliyeva, 1st year student  education, and 2 cource student, Malohatoy Abduvaliyeva participated in an international scientific conference held in Antalya and received a certificate of international conference. Dean of the faculty Ch. Shokirova appreciated the students. In order to increase  the feeling of patriotism among faculty members, several competitions were announced:
-"Best Actors of the National Anthem"
-"Best Poetry and contest Competition"
-"Tips for Goodness"
-Best picture contect"
-Best hands-on samples"
Omonboeva Mukhlisa
1 st year student of the Faculty of Pedagogy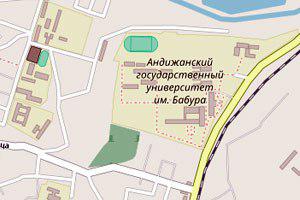 OUR ADDRESS
129 st.Universitet, Andijan city, Republic of Uzbekistan, 170100,
Email:
agsu_info@edu.uz
Telephone/Fax:
0 (374) 223 88 30
Helpline:
0 (374) 223 88 14How to get there: Taxi in direction 75
MINISTRY OF HIGHER AND SECONDARY SPECIALIZED EDUCATION MHSSE
ANDIJAN STATE UNIVERSITY ASU
Using any kind of information from the site is allowed on condition that putting reference of our site. It is necessary to put free and open references while copying internet information. References must be put no matter our information is partially or completely used. Authors are responsible for the information published in the site.
© Andijan state university, 2004-2022. All rights reserved.
&nbsp <!— FINISH WWW.UZ TOP-RATING —>