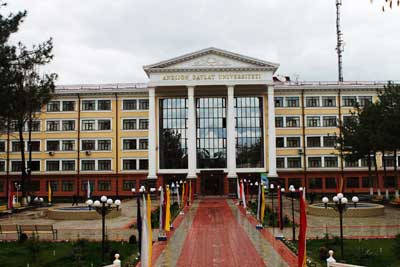 Andizhan State of University named after Z. M. Bobur began its own history in 1931. Before the subsidiary of Fergana pedagogical institute, in 1939 institute of teachers, then in 1953 Andizhan state of pedagogical institute, after gaining independence of our country in 1992 on 28 February according to decree of the president of Republic of Uzbekistan Andizhan State of pedagogical institute was changed Andizhan State of University.
Nowadays at the University there are 8 faculties which include 31 chairs such as Philology, Natural History, Geography, History, Social science, Primary education, Physical training.
At the University 6897students are studying in 25 bachelor educational majors and 149 students are studying in 13 master degree specialties.
523 professor teachers (also 196 women) are teaching students, in order to prepare high experienced personnel at the University.
In the last years, scientific ability of students of University is rising. 31 doctor of science, 151 candidate of science, assistant professors are working at the University. 13 investigators are busy with scientific researches at the Main scientific worker-searching of Institute. In 2013 13 monographs, 2 textbooks, 84 hand books, 184 scientific articles (from them 35 in foreign) and 694 stylistic collections were prepared by professor teachers.
Nowadays, 67 professor teachers and 30 students are taking part in financed science research works.  In last 2013 according to budgets of government 222 828soum according to economy treaty 40mln 700thousand soum scientific researches are done by them. So, based on TEMPUS project equal 10000 USA dollar according to foreign budget works are done.
Financial technological source of University is becoming stronger. At the moment, there are 260 audiences in the 6 study buildings and 7000 students can study these buildings.( it is enough to study one part ). The total area of study and laboratory rooms is 45 883 sq metre, 6.7 sq metre is appropriate for each students.
2 information research centre, 26 computer rooms, 954 computers, 6 student dormitories to 2000 places, 6 kitchens to 910 place, 2 buffet 3 open and close sport pitches all of them are for students and they serve students to be high knowledgeable, skilful, perfect personnel.