YOU ARE SACRED UZBEK WOMEN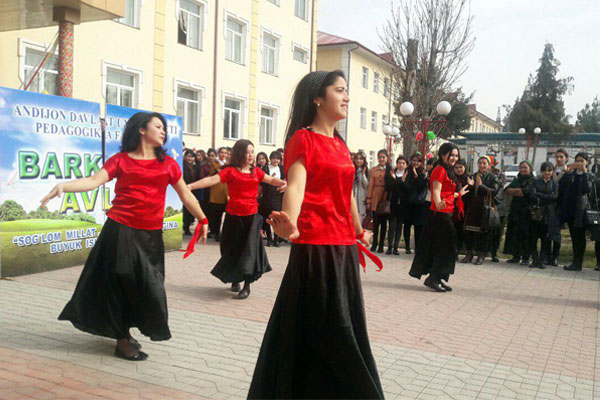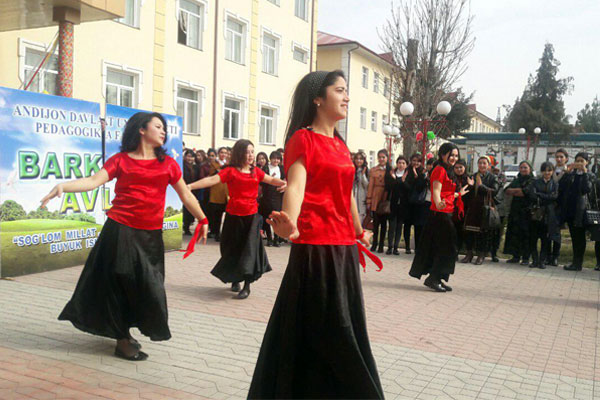 Spring! One of the 4 seasons of the year. This season contains three months: March, April and May in Northern Hemisphere, and September, October and November in Southern Hemisphere.  
Days get hotter and trees begin to blossom. Snow melting, a large quantity of rain and hailing makes full the lakes, ponds, reservoir storages with water. This shows that the beautiful season spring has come. It makes all people feel happy.
This season makes all people do some favors and good works for one another. You can see flowers everywhere and peasants begin to create gardens, to plant trees and etc. Spring is like a rainbow because it contains 7 different colors of nature. We can describe the season in this simple way. Because we can see the rainbow after the rain.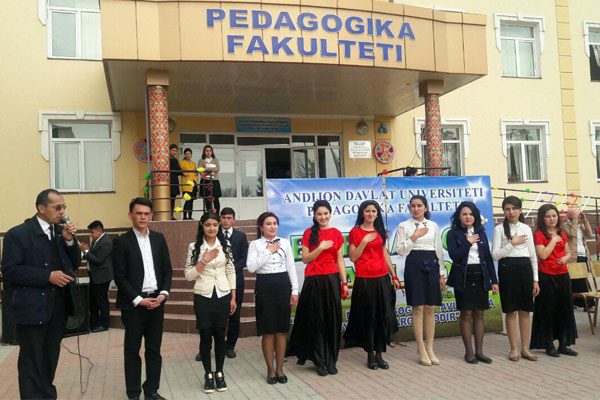 Colours of the rainbow are very attractive and can simply attract any people. Season is considered as the beginning of the year.
On the 8th of March, leader of Uzbekistan Union of Youth of Andijan State university I.Boltaboyev and students of the group № 101 of the faculty of  BTSTI organized a measure for the women teachers and students of the faculty on the occasion of the great holiday.
The dance circle members "San`at gulshani" took an active part in this measure.
3rd year students of the faculty of Pedagogics Madaminxujaev Usmonxuja, Saidov Bobur played very pleasant music and invited all the participants to dance.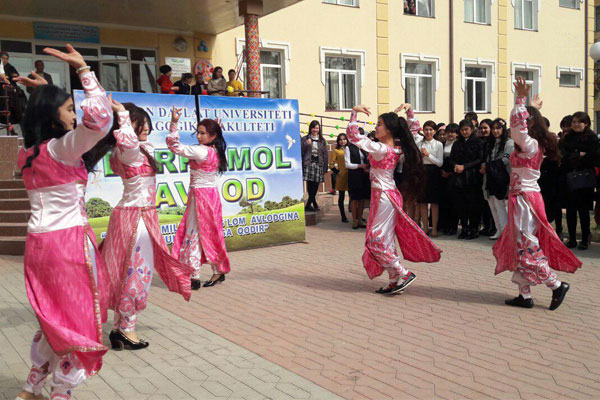 Gulichexra ZOXIDOVA
Student of the faculty of Pedagogics. The leader of Mass media major of Uzbekistan Union of Youth of the university.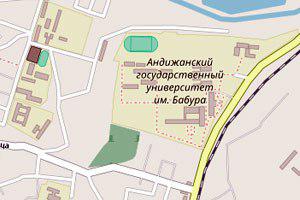 OUR ADDRESS
129 st.Universitet, Andijan city, Republic of Uzbekistan, 170100,
Email:
agsu_info@edu.uz
Telephone/Fax:
0 (374) 223 88 30
Helpline:
0 (374) 223 88 14How to get there: Taxi in direction 75
MINISTRY OF HIGHER AND SECONDARY SPECIALIZED EDUCATION MHSSE
ANDIJAN STATE UNIVERSITY ASU
Using any kind of information from the site is allowed on condition that putting reference of our site. It is necessary to put free and open references while copying internet information. References must be put no matter our information is partially or completely used. Authors are responsible for the information published in the site.
© Andijan state university, 2004-2022. All rights reserved.
&nbsp <!— FINISH WWW.UZ TOP-RATING —>