ACTIVISTS OF THE FACULTY OF PEDAGOGY IN NURSING HOME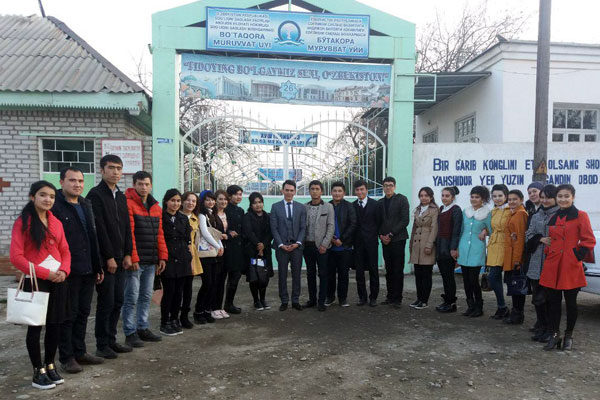 The leader of the Uzbekistan Union of Youth of the faculty of Pedagogy I.Boltaboev and leader of the group #204 Shavkat Ahmedov visited the nursing home "Muruvvat" for disabled men under Andijan regional ministry of Health care located in Butakara with some talented and active students.
308 first and second grade disabled men live in that nursing home.
The staff of our faculty showed the concert. Before beginning the concert the vice director of the establishment Umid Hamdamov took a turn and said: Let me express my gratitude to the authority of the faculty of Pedagogy of Andijan State university, especially, the teachers and students who are here now with us and let me congratulate all of you with this holiday, International day of disabled people.
All of them liked the songs and dances prepared by our students. "Club of the smart and the merry" participated in the ceremony in order to make the concert more interesting.
At the end of the concert the teacher of the BMTM department Shavkat Ahmedov congratulated all the participants of the ceremony and thanked to those people who have been caring them as their brothers and gave presents.
After the concert the vice director of the establishment Umid Hamdamov invited the guests to the museum.
Hosiyathon MAMIRJANOVA
The activist of the Uzbekistan Union of Youth. The student of group "BTSTI"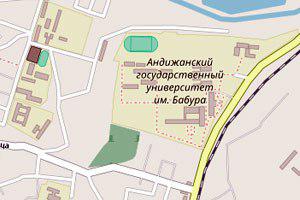 OUR ADDRESS
129 st.Universitet, Andijan city, Republic of Uzbekistan, 170100,
Email:
agsu_info@edu.uz
Telephone/Fax:
0 (374) 223 88 30
Helpline:
0 (374) 223 88 14How to get there: Taxi in direction 75
MINISTRY OF HIGHER AND SECONDARY SPECIALIZED EDUCATION MHSSE
ANDIJAN STATE UNIVERSITY ASU
Using any kind of information from the site is allowed on condition that putting reference of our site. It is necessary to put free and open references while copying internet information. References must be put no matter our information is partially or completely used. Authors are responsible for the information published in the site.
© Andijan state university, 2004-2022. All rights reserved.
&nbsp <!— FINISH WWW.UZ TOP-RATING —>