ANDIJAN STATE UNIVERSITY WILL COOPERATE WITH ONE OF THE LEADING UNIVERSITIES OF SOUTH KOREA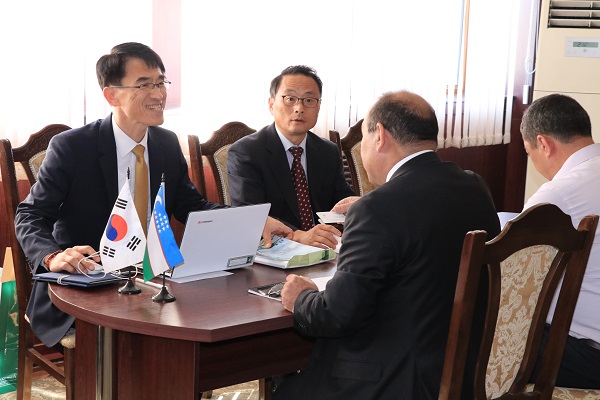 On September 18, 2019 representatives of Tongmyong University, South Korea: Mr. Kwon Jung-Rak, Head of International Relations, and Mr. Yong Hi Park, Head of International Relations Department at the Korean Institute of Languages ​​under the university, visited Andijan State University to elevate previously established partnership relations.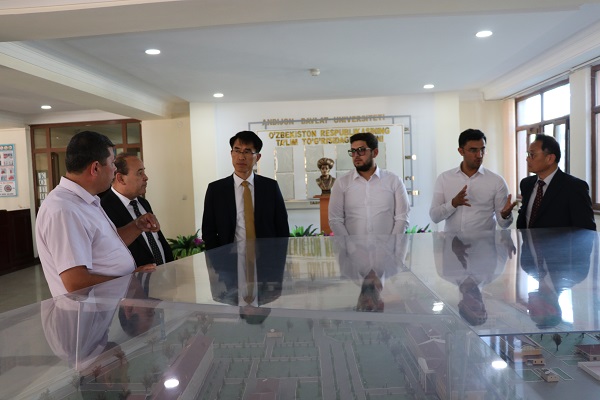 The guests were welcomed by the vice rector for scientific work and innovation of the university Bakhtiyor Rasulov and the head of the department of international cooperation Farhod Alimov. Initially, the representatives of Tongmyong University were introduced with the conditions created for the students, the existing faculties and educational areas at Andijan State University.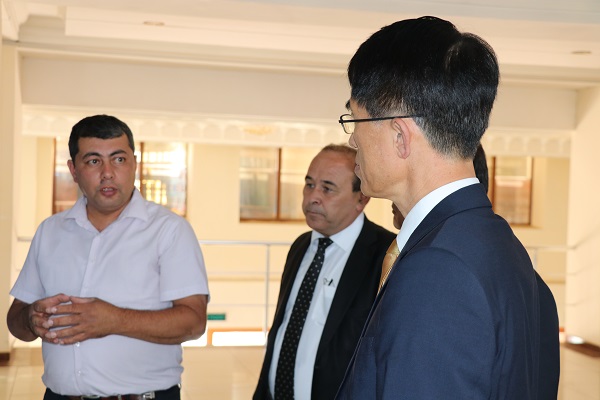 Then the prospects of bilateral cooperation were discussed. Mr. Kwon Jung-Rak gave a presentation on the South Korean system of higher education and Tongmyong University. During the discussions, the sides considered the establishment of a joint educational program in cooperation with the two higher education institutions in the area of ​​"double degree" (2 + 2) in the areas of Computer science and Information Technology, Architecture and Design. Vice-Rector of Research and Innovation of ASU, Bakhtiyor Rasulov stated that the cooperation with Tongmyong University, which has extensive experience in training specialists in these areas, is beneficial for Andijan State University. It was agreed to jointly develop a roadmap by November to implement these joint programs.
It was also stressed at the meeting that the academic exchange of students and professor-teachers, and the organization of academic exchanges in the short term of three months and six months would be of mutual benefit.
Particular attention was paid to internship, training and doctoral training of teachers in South Korea, adaptation of new generation curricula of Tongmyong University to our national curriculum.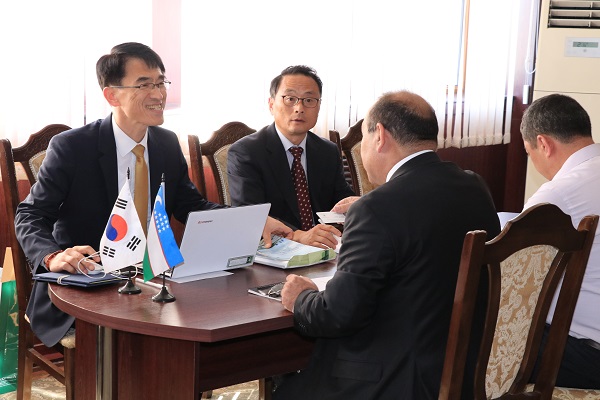 In the end, the sides agreed to sign a renewed cooperation memorandum.
As for the information, Tongmyong University is one of the leading universities in South Korea in the field of information technology and was founded in 1977 by Kang Seok-jin as Tongmyong Institute of Culture and Education. Nowadays there are 5 colleges, 1 institute, 2 schools. The University has modern knowledge in information technology, engineering, architecture and design, and has extensive experience in training highly qualified personnel.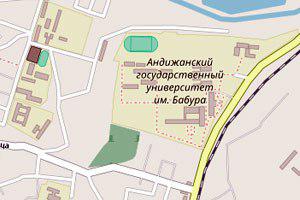 OUR ADDRESS
129 st.Universitet, Andijan city, Republic of Uzbekistan, 170100,
Email:
agsu_info@edu.uz
Telephone/Fax:
0 (374) 223 88 30
Helpline:
0 (374) 223 88 14How to get there: Taxi in direction 75
MINISTRY OF HIGHER AND SECONDARY SPECIALIZED EDUCATION MHSSE
ANDIJAN STATE UNIVERSITY ASU
Using any kind of information from the site is allowed on condition that putting reference of our site. It is necessary to put free and open references while copying internet information. References must be put no matter our information is partially or completely used. Authors are responsible for the information published in the site.
© Andijan state university, 2004-2022. All rights reserved.
&nbsp <!— FINISH WWW.UZ TOP-RATING —>