THE SYSTEM OF STUDENT EXCHANGE IS IN PRACTICE
Nowadays ASU has a good relationships with other universities of neighboring countries in educational, scientific and spiritual branches. All the faculties and chairs of ASU have been making  their outstanding contributions to the development of this relationship. In order to provide the execution of  Presidential  Decree  №2909 on 20 April, 2007,  and to do the terms indicated in the memorandum between ASU and Osh State University in Kyrgyz Republic mutual student exchange was created. According to this depending on the letter number 1139, April 2, 2018, of the Ministry of Higher and primary education of the Republic of Uzbekistan 17 students from Osh university on physics – math, natural subjects, PI and foreign languages visited to ASU on April 9, 2018. Students studied here and lived in hostels with their Uzbek peers. Skillful professor teachers of the university taught them lectures  in English and Russian. On weekends those students were taken to sightseeing places, historical places, "Bagishamol", "Alisher Navoiy" park, theaters and cinemas in Andijan. Students from Kyrgyzstan were satisfied with the opportunities in the university during their study. According to the tasks of the rector of university, on 30th  April students ID cards were prepared for all the students from Kyrgyzstan for doing well during the lesson. These cards were given in a small meetings hall of university by deputy rector on spiritual affaires  A. Hamraqulov.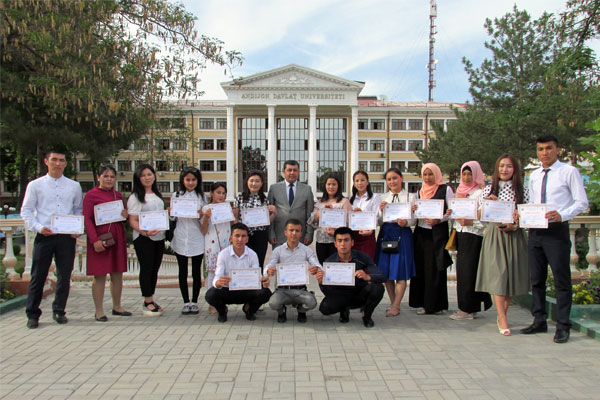 Students showed their gratitude to the leaders of the faculty, including the dean of the natural science faculty X. To`xtaboyev for his help. The deputy rector on educational affaires A. Mamatyusupov, the head of the international relationship department F. Alimov saw off the students to Andijan – Osh border  "Do`stlik" custom house on May 1st. Nowadays according to the task of the deputy rector on educational affaires A. Mamatyusupov and the deputy rector on science affaires B. Rasulov, regarding the suggestions of the department international relationships and all other deans of the faculties. Talented students are being chosen to study in Osh university temporarily. The visit of ASU students to Osh State University has been arranged to start from  May 14, 2018  to May 26.
Farhod ALIMOV
Head of the department of International relations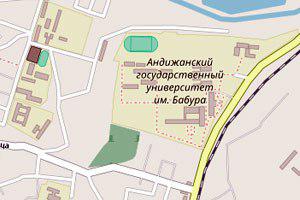 OUR ADDRESS
129 st.Universitet, Andijan city, Republic of Uzbekistan, 170100,
Email:
agsu_info@edu.uz
Telephone/Fax:
0 (374) 223 88 30
Helpline:
0 (374) 223 88 14How to get there: Taxi in direction 75
MINISTRY OF HIGHER EDUCATION, SCIENCE AND INNOVATIONS OF THE REPUBLIC OF UZBEKISTAN
ANDIJAN STATE UNIVERSITY
Using any kind of information from the site is allowed on condition that putting reference of our site. It is necessary to put free and open references while copying internet information. References must be put no matter our information is partially or completely used. Authors are responsible for the information published in the site.
© Andijan state university, 2004-2023. All rights reserved.
&nbsp <!— FINISH WWW.UZ TOP-RATING —>