INFORMATION ON ASSISTANCE PROVIDED BY THE UNIVERSITY FOR CITIZENS DUE TO THE SOCIAL STATUS OF CITIZENS
Based on the decision of the President of the Republic of Uzbekistan PQ- 5157 of June 22, 2021, 36 students with disabilities, 14 children of military personnel, 10 children of internal affairs officers, 46 children of assistants were admitted to Andijan State University for the 2021/2022 academic year, needy women and girls, 16 people with military letters of recommendation and 5 visually impaired applicants were accepted as students on the basis of a grant.
Based on a number of decisions and decrees issued by our government from 2021 to the present day, students studying at the university will have the same approach to all, regardless of religion, race, gender, or origin. This is specified in Article 5 of the Law on Education of the Republic of Uzbekistan.
All 21,000 students studying at the university belong to the Muslim religion, and all of them are allowed to practice their own religion.
All 87 students with disabilities have been granted disability benefits, and all have continued to benefit from these benefits.
More than a thousand students in need of social assistance are being financially and morally encouraged.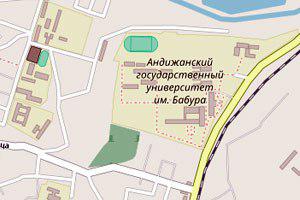 OUR ADDRESS
129 st.Universitet, Andijan city, Republic of Uzbekistan, 170100,
Email:
agsu_info@edu.uz
Telephone/Fax:
0 (374) 223 88 30
Helpline:
0 (374) 223 88 14How to get there: Taxi in direction 75
MINISTRY OF HIGHER EDUCATION, SCIENCE AND INNOVATIONS OF THE REPUBLIC OF UZBEKISTAN
ANDIJAN STATE UNIVERSITY
Using any kind of information from the site is allowed on condition that putting reference of our site. It is necessary to put free and open references while copying internet information. References must be put no matter our information is partially or completely used. Authors are responsible for the information published in the site.
© Andijan state university, 2004-2023. All rights reserved.
&nbsp <!— FINISH WWW.UZ TOP-RATING —>