НАСТОЯЩИЙ СЫН НАРОДА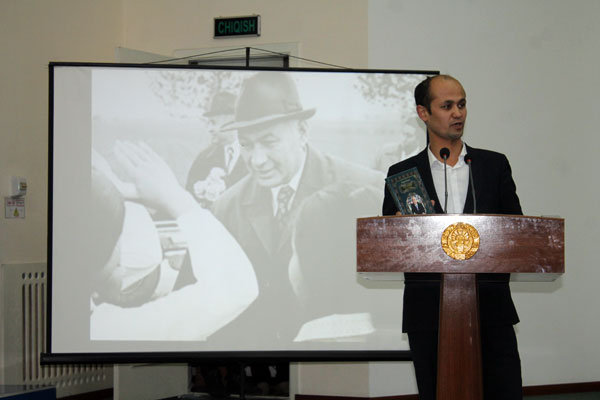 Our president Sh. Mirziyoev signed a decree "On celebrating the 100 anniversary of birthday of famous statesman and writer Sharof Rashidov" on the 27th of March, 2017.
Different actions and commemoration meetings have been holding belong to the 100 anniversary of birthday of Sharof Rashidov in different places of our Republic during November. As well as the scientific-literary conference was organized on the 29th of November of this year on topic " Sharof Rashidov was a statesman and the creator who made a great contribution to the development of Uzbek literature" in the conference hall of the university. The action was organized by the department of spiritual and moral education and the members of the department of Uzbek language and literature of Andijan State University.
The rector of the university professor A.S. Yuldashev opened the ceremony. After that the head of Andijan regional department of spiritual and moral education center A.Isroilov took a turn and talked about the moral role of Sharof Rashidov's activity in the life of the youth. Therefore, the dean of the faculty of history R.R.Shamsutdinov made a speech about Sharof Rashidov who was the person fought for the successful life of Uzbek people and a great statesman. He continued his speech talking about his life, family and his contributions to make the life of people beautiful. The dean of the faculty of philology, docent B.M.Rahmonov gave information about the creative activity and works. He read the poem "Mehnatim" to the audience written by Sh.Rashidov as a sign of a deep respect. The chairman of the department of Uzbek language and literature, docent Halim Karim spoke about the literary features of his works.
The students of the faculties of philology and pedagogy staged a part of his work "Kashmir qo'shig'i" by the leadership of the senior teacher Z.Rayimberdieva and showed it to the participants of the ceremony. The vice rector on spiritual and moral affairs of our university Azamjan Hamrakulov congratulated and thanked to all teachers and students for their organization of the conference and gave them presents for the keepsake.
Sharof Rashidov was the leader of our country in difficult times. He tried very hard to make a contribution to the development and future of our Motherland. His monument was placed in Jizzakh region, Sharof Rashidov district in order to celebrate the 100 year anniversary of such a great person's birthday with dignity. The museum house of the statesman was established in Jizzakh city. "Saylanma" and memorial book "The flaming son of our nation" were published by the association of writers of Uzbekistan. This is a sign of a deep gratitude of our nation to this person.
Сохибахон УРИНОВА
Лидер пресс-службы филологического факультета Молодежного сою за Узбекистана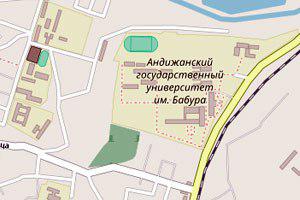 НАШ АДРЕС
170100, Республика Узбекистан, г. Андижан,улица Университетская, дом 129
Эл. почта:
agsu_info@edu.uz
Телефон/факс:
0 (374) 223 88 30
Телефон доверия:
0 (374) 223 88 14Транспорт: маршрутное такси №75
МИНИСТЕРСТВО ВЫСШЕГО И СРЕДНЕГО СПЕЦИАЛЬНОГО ОБРАЗОВАНИЯ МВССО
АНДИЖАНСКИЙ ГОСУДАРСТВЕННЫЙ УНИВЕРСИТЕТ АГУ
Ответственность за материалы публикуемых на сайте статей несут только их авторы. Использование любых материалов, размещённых на сайте, разрешается при условии ссылки на наш сайт. При копировании материалов для интернет-изданий – обязательна прямая открытая для поисковых систем гиперссылка. Ссылка должна быть размещена в независимости от полного либо частичного использования материалов. Гиперссылка (для интернет- изданий) – должна быть размещена в подзаголовке или в первом абзаце материала.
© Андижанский государственный университет, 2004-2022. Все права защищены.
&nbsp <!— FINISH WWW.UZ TOP-RATING —>